Live Block Preview
A downloadable tool for Windows
Hello there and welcome to a small, but useful, project I've been working on!
What is this project about?
"Live Block Preview" is an application where you can drag and drop textures directly on to the cubes sides to see what they may look like together on the cube or block.
There might be a few games in mind as you can tell in my feature gifs below but don't let this limit how you might use the tool.
It should also work with any image editing software so it can be quite versatile.
I'd love to see what your using this tool to work on! Use #CarbsTools on Twitter to share!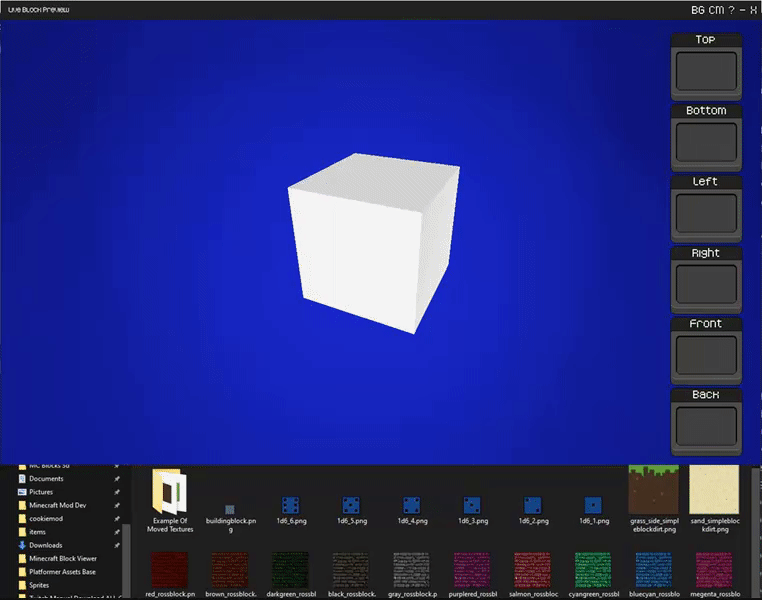 Once you have dropped your textures on to the cube they will now know to automatically update when ever the texture is saved or exported.
This means while using your favorite art software (for me Aseprite) and you load up your textures, any time you save them they will update automatically on the cube providing a very fast look at what your block may look like.
Keep in mind there may be slight differences in the preview and in game due to lighting etc. but that this is merely to get a quicker preview while working on the textures.
Key Features:
Compact Mode: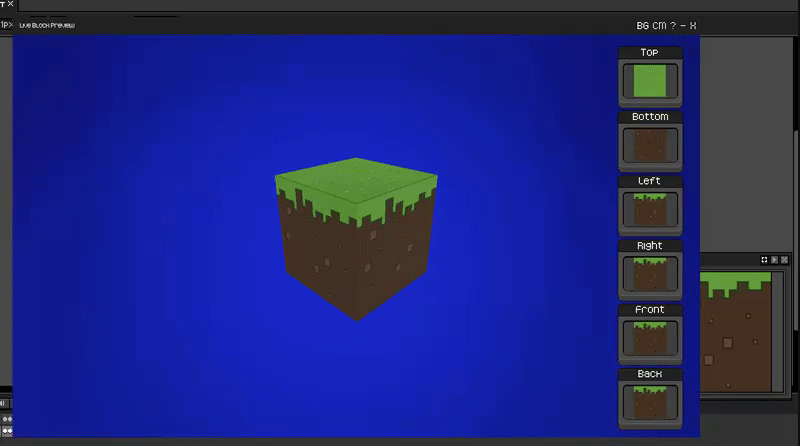 Like many art software applications Compact Mode provides a small preview of the cube while you work on each texture. This cube can be spun around either manually or automatically.

The goal here is to have a minimal impact on your screen real estate so you can see your cube but still be able to have optimal space to work on the textures.
Customizable Background Color: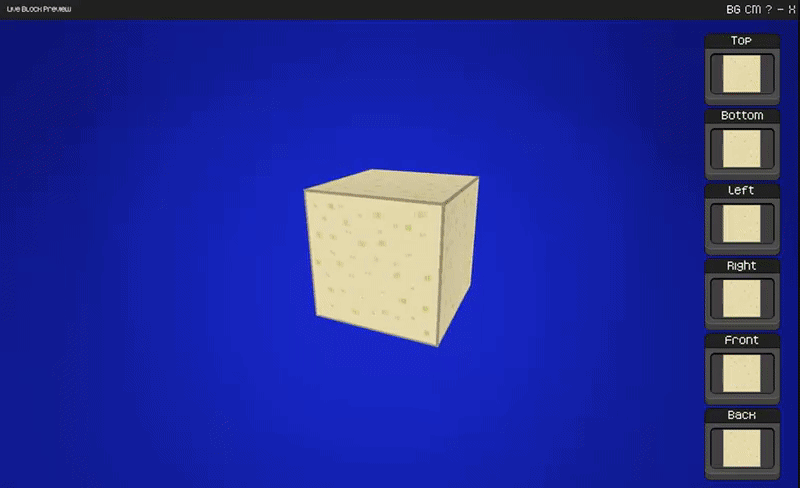 Change the background color to anything you want! By default there is a slight gradient with the background but this can be set to flat color in the Color Settings.
Love a color? Save it as one of your presets using the + button in this menu. You can have multiple presets which you can swap back and forth as you like.
Presets are saved and loaded next time you run the app.
Load Last Textures: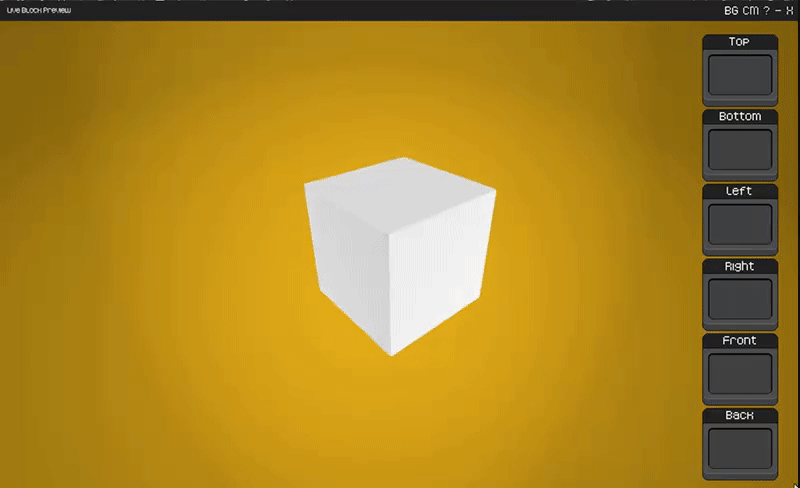 Working on a project recently? Load up the last textures you were using!
Show In Folder: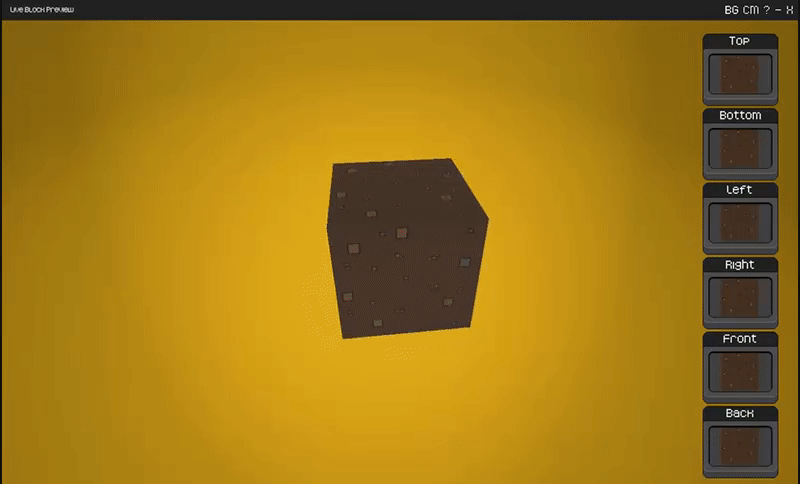 By control clicking on a texture preview this will open the folder that your texture resides in.
Front Indicator: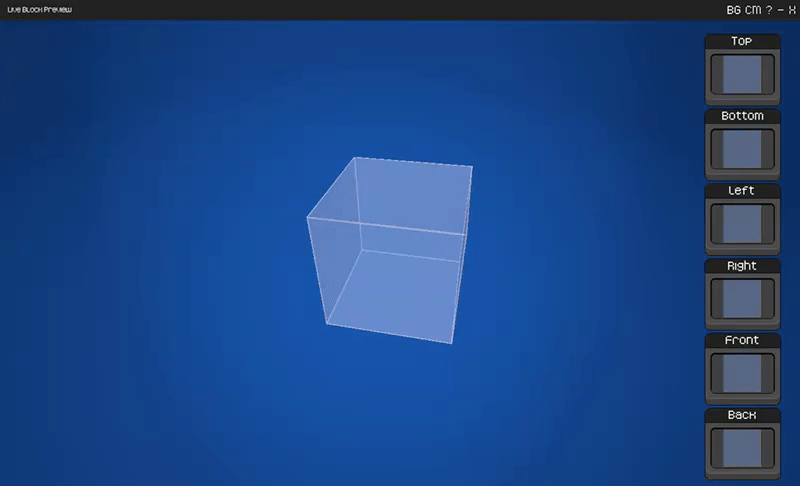 This is a quick way to remember which side is the front.
New Features in 1.1.0!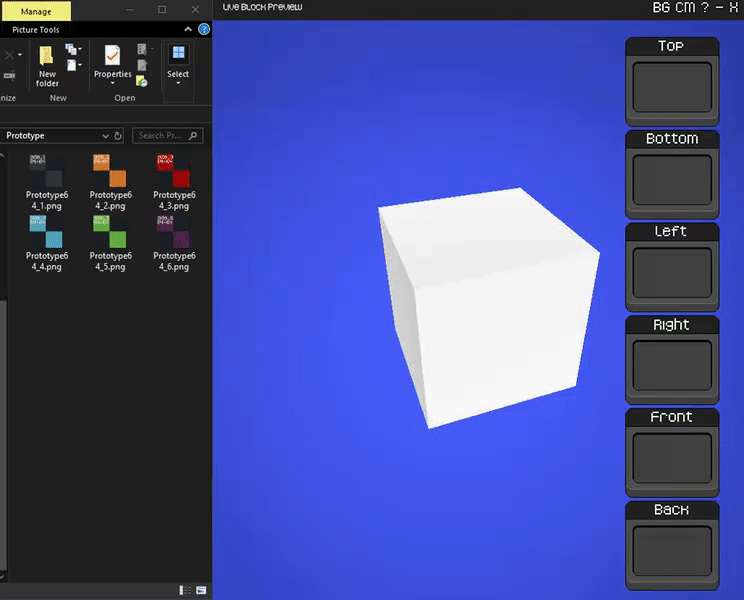 Support has been added where you can now drag and drop a single image on to the preview boxes to the right.
Doing so will load the texture on that side of the cube.
Support has been added for multiple file loading.
Simply drop the group of up to 6 images anywhere in the open near the cube to load them all in to their sides.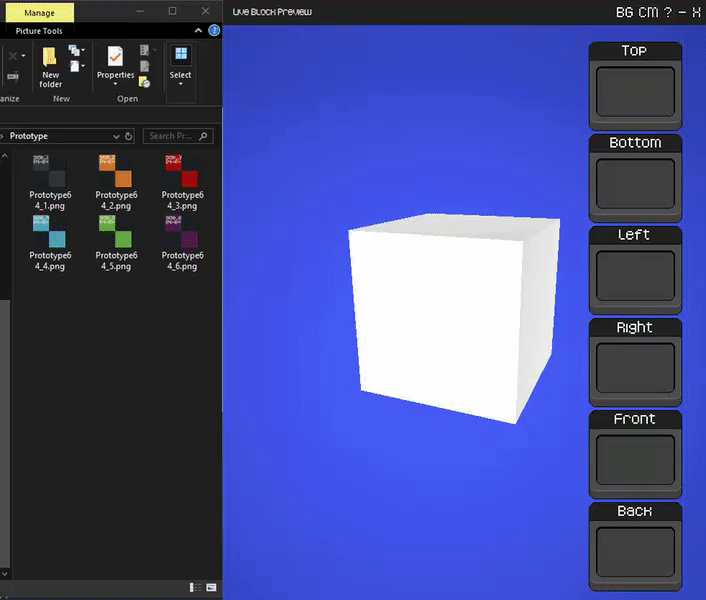 Example above: dragging the group in by the 1st file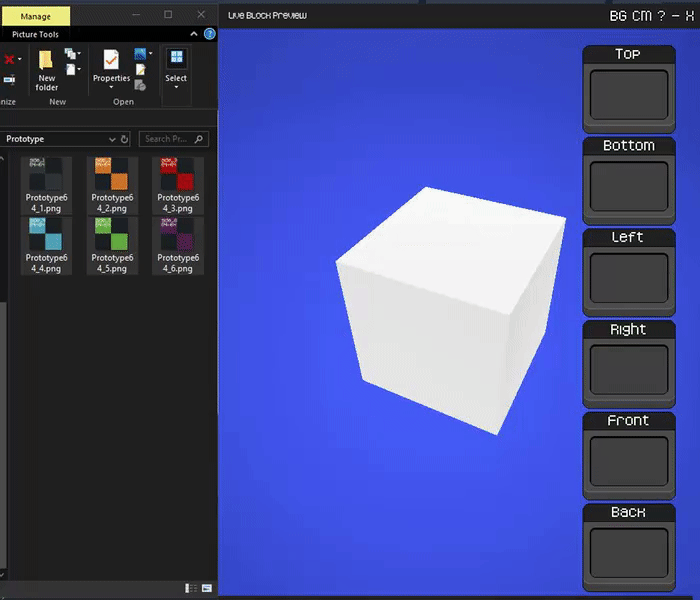 Example above: dragging the group in by the 4th file. Notice how it starts with top and loops around.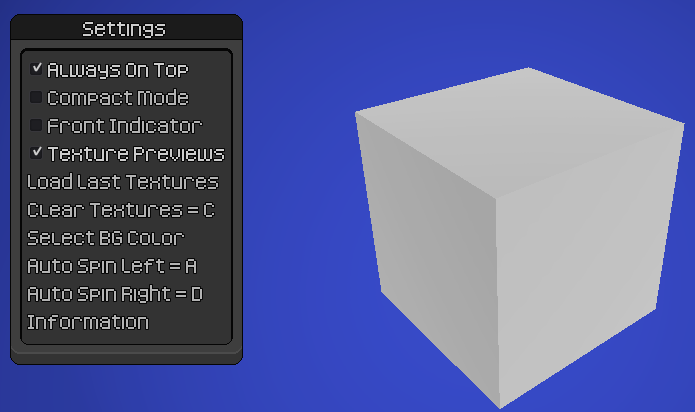 Hotkeys now displayed in right click menu.
I hope you all enjoy this little tool as I've worked quite hard on it thus far to get it to this stage.
Please leave a comment below with any feedback or if you need any help with any of the features!
Also would love to see your textures! Feel free to @CarbsCode on Twitter with your cool textures!
Thank you!
Quick shoutout to everyone that has shown interest in my projects and tools! It's really awesome too see everyone enjoying and getting great use from them!
An extra big shoutout to everyone that has been able to donate / paid / add a tip for any or my applications. You guys help make my tools available to everyone at little to no cost. You go above and beyond which really makes my day that you find enough value in them to give a little extra support. So thank you so so much as I really do enjoy making these applications!
Purchase
In order to download this tool you must purchase it at or above the minimum price of $5 USD. You will get access to the following files:
Live Block Preview 1.1.0
13 MB
Comments
Log in with itch.io to leave a comment.
Hey, the tool looks really cool. Would you be able to provide a Linux build? It's my main dev platform.

I can most certainly try! However, I might need to have you test it because I don't have Linux installed currently so I would be unsure if all the features worked properly :)
I'm actually installing Ubuntu as we speak :)
Just so I can test this out before hand!
It's def a few steps doing it on windows but it seems better then it use to be with the only option before being a duel boot. Now you can install it directly on to windows and just grab the gui via an application!
Still have a but to set up but I'll comment again as soon as I figure thing out!
I'll be happy to help with testing and reporting.
I've been doing some small-time dev on Linux as well, so if anything crops up I can probably at least have some insight.
That would be amazing. I'm pretty sure most if not all functions should work with out much tweaking though when I exported it yesterday I'm not sure if I have the correct file format so I'm going to try one other setting. That being said it could be correct and I was just unable to get my linux install to pick up on it and open it through the utility I tried to use.
I might end up firing up the old virtual machine software in the end and seeing if that works too. Long term it would be nice to be able to test and debug before releasing 😀
I can try and shoot you over a private build with the debugger attached so if anything pops up it could be notted. I belive I can also create a log file dump from this aswell so that could be handy too :)
Sorry for my inexperience with the platform. I've only really delt with headless server stuff via terminal and ftp file share systems 😆
But this is good it means in the future I would be able to support Linux which is an amazing platform so I'm glad you pushed me in that direction even if it might cause a bit of a headache getting set up hahaha
I've tried multiple versions of Linux and I can't seem to get my application to open. This again is running it through the windows 10 installs of Ubuntu. I'm sure I'm doing something wrong because it should just work but yeah. Sorry for the delay on any updates for this. I've been slammed at work so I haven't had time to work on it, usually only on the weekends is when I get to dev and this past weekend I just chilled because work had been so rough.
But I would like to get to this so I haven't forgot about ya!
Hello, thanks for this nice tool. I wanted to download it and try it, but it says no item available to download.
Hmm this is quite strange! I wonder if it's because I didn't set the operating system for the download? Are you using the itch io launcher or just downloading from the website? It should show this when you click download now :)

Sorry for the very late reply, I didn't noticed your message in time. Yes I guessed that it was probably the issue, but it seems like you set it up now cause I soon as i hit "Instal" this time, it's started installing. To answer your question thought, I've tried both the upsite and the client before and none allowed me to download/install. It's installing right now, so I'm looking forward to toy with it and have fun. Thanks a lot.
Awesome! I'm glad you were able to get it installed!
Let me know if you need any help! Or if anything is broken haha xD
Thank you and sure I will, I should get a couple of free days next week. I'll have time to experiment with it fully.