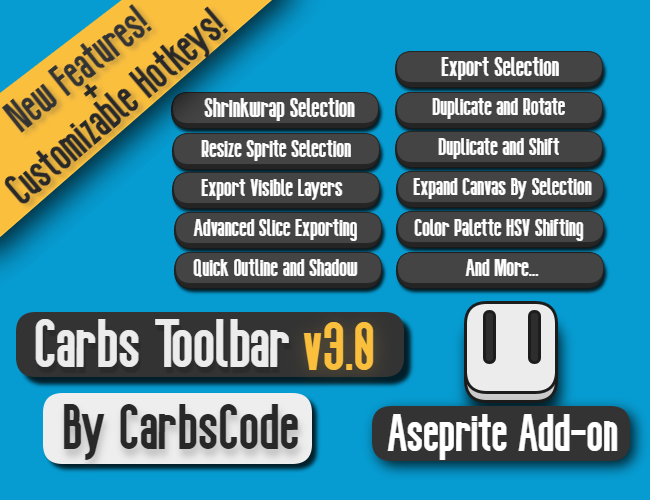 Carbs Toolbar
Carbs Toolbar Update v2.3.0
---
Hope you guys are ready for a little update!
First of all thank you so much everyone who has shown interest in this toolbar, everyone that has been showing the tool to their friends and spreading the love, I hope everyone is liking the tool! Also huge shout out to those who have bought this tool you guys don't need to do that but I REALLY APPRECIATE the support so again much love to you all!!!

Changelog:
New Features:
Expand Canvas can now be used to expand in 9 different directions!
Added support for minimizing each set of options so you don't need to see them all at once.
I've decided to remove the Show/Hide Toolbar dialog at the top as it was big and clunky and now we have the ability to minimize all the options. Hopefully this is okay! :D
Requires Aseprite 1.2.20 and newer as there are features that were added that use the new api :)
Files
[CC] CarbsToolbar 2.3.0
14 kB
Jun 12, 2020